Seven Sustainable Alternatives to Confetti
Advice 17.03.2020
Tossing confetti over the happy couple is a wedding tradition we can't seem to get enough of. And it always looks so much fun in the photos, doesn't it? But these days, that brightly coloured confetti we're all so familiar with is out, out, out, as environmentally conscious couples (and venues) look for more biodegradable and eco-friendly options.
So here are our seven sustainable alternatives to confetti.     
Dried flower confetti
Made from the likes of delphiniums, larkspurs, marigolds and roses, dried flower confetti is oh so pretty and environmentally friendly and dye-free too. From brightly coloured reds and yellows to vintagey creams and pale pinks, choose one colour or a mix of flowers to match your wedding theme. Hand your dried flower confetti to guests in individual hand rolled cones made from brown paper or coloured paper. Or place all the flowers in one big basket and pass it round.
Freeze dried rose petals
Freeze dried rose petals are made from real roses which have been carefully preserved so they're absolutely perfect for the big day. The process involves removing the petals from each flower before placing them into freeze dryers, which removes all the moisture. The petals keep their colour for around 3-5 weeks as long as they're kept in the dry and the dark. They don't need to be refrigerated either and can be kept at room temperature. Freeze dried rose petals are completely biodegradable. And no, they don't feel cold or frozen. You'll be pleased to know they feel exactly like real rose petals! Put your rose petals in lacy cones made from paper doilies or put in small glass jam jars. You can scatter your rose petals on the tables too.  Rice butterflies
Throwing rice over the newlyweds as a symbol of fertility is a tradition that goes back to ancient Rome But we think a nicer (and less painful alternative) are rice butterflies which are handmade from rice grains, rice paper and rice glue and completely biodegradable and eco-friendly. Rice butterflies come in a range of colours too to match your wedding theme. Choose one colour or mix and match. Butterflies represent change, hope and life which make them the perfect motif for a wedding.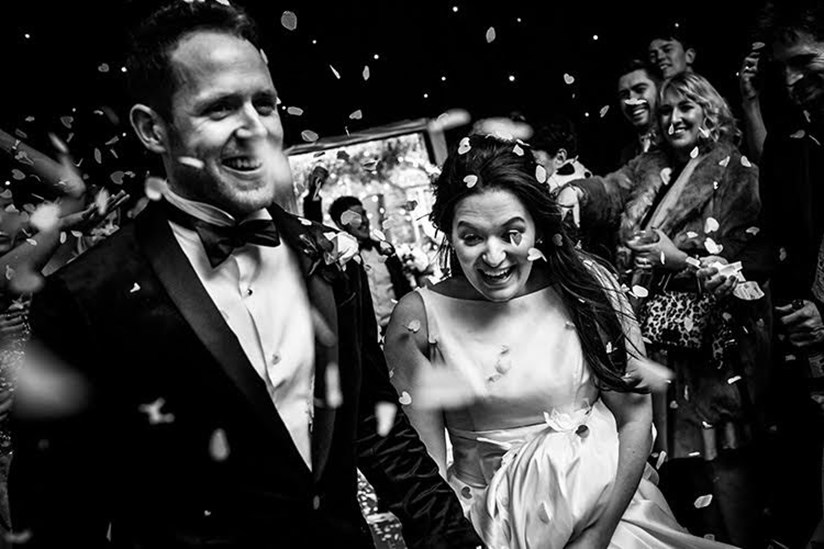 Dried Lavender
Everyone loves the colour and scent of lavender. And as it's a symbol of love, joy and devotion it's a lovely flower for a wedding. Dried lavender buds  are a pretty and eco-friendly confetti alternative. Keep the lavender in small, drawstring personalised muslin bags to make it easy for guests to scatter over the couple as they pass by. Then any lavender in the bag that's left over can be taken home by your guests as a keepsake of the big day and used to scent drawers or wardrobes.  
Snowflakes
If you're having a winter wedding, artificial snowflakes that fall and flutter just like real snow make any wedding photograph absolutely magical. Snowfetti is made from natural starches and it's non toxic, biodegradable and water soluble, so it dissolves and disappears once it comes into contact with water. And it can also be used to decorate your tables and venue too, if you want to go for a full winter wonderland theme.
Blowing bubbles
Instead of confetti, why not blow bubbles instead for the happy couple? Wedding bubbles are becoming increasingly popular and they're guaranteed to keep the kids happy too. Buy bubble wands or even champagne glass or champagne bottle shapes, and have them personalised with tags or stickers. Just take care around delicate fabrics though. Make sure guests blow bubbles in front of the couple for the pictures rather than at the couple. You can also put wedding bubbles on the tables too for the evening celebrations.   
Fresh wildflowers
Or for a completely natural and sustainable alternative to confetti, pick fresh flowers from our wildflower meadow. The flowers are in bloom from May to October and are free to use for confetti (as well as in wedding bouquets, buttonholes and for table decorations). Send out a willing member of the wedding party to pick flowers on the morning of the wedding. Then pop then into personalised wedding cones or boxes for guests to scatter over the couple at the end of the ceremony. Beautiful.