Harry Potter, Disney and an English Country Fair: A Day in the Life of an Ash Barton Bride and Groom
Interviews 27.04.2020
Kathryn and Thomas had their wedding day at The Ash Barton Estate in October 2018. We asked them to share some highlights from their magical day.
Let's go back to the beginning and start with the proposal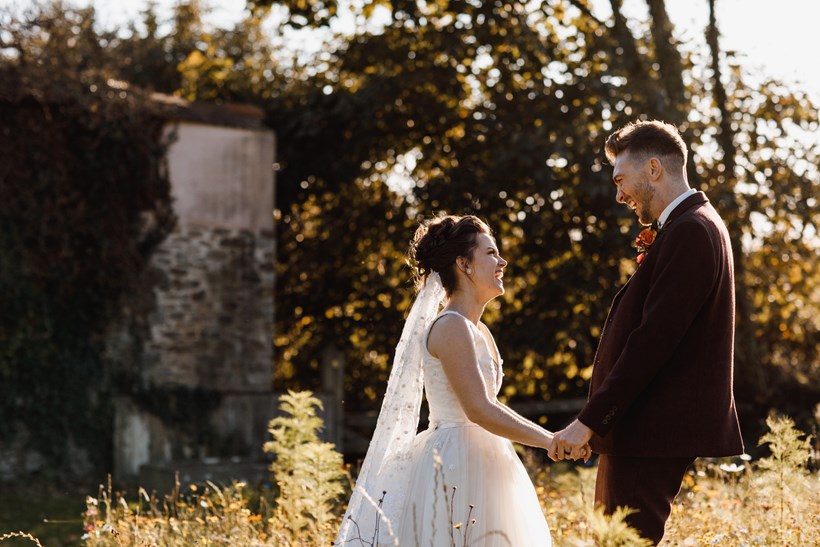 "Kathryn and I had been together nine months when I proposed. And then it was just under two years until our big day at the Ash Barton Estate," says Thom. "We're both performers and met when we were appearing in musicals aboard the Disney Cruise Line. After our first contract together, I came home to England to be in a panto (oh yes I did...) and Kathryn flew over from her home in the US to watch the show. On the day she arrived I took her to a lovely hotel (they gave us their best suite!) and played her a video of me singing 'our' song, with the help of the band from our show, all the while pretending this was her Christmas present. Once she'd watched the video, I got down on one knee and (after a considerable time, in which Kathryn tried to get over the shock) she said yes!"
So why choose Ash Barton as your wedding venue?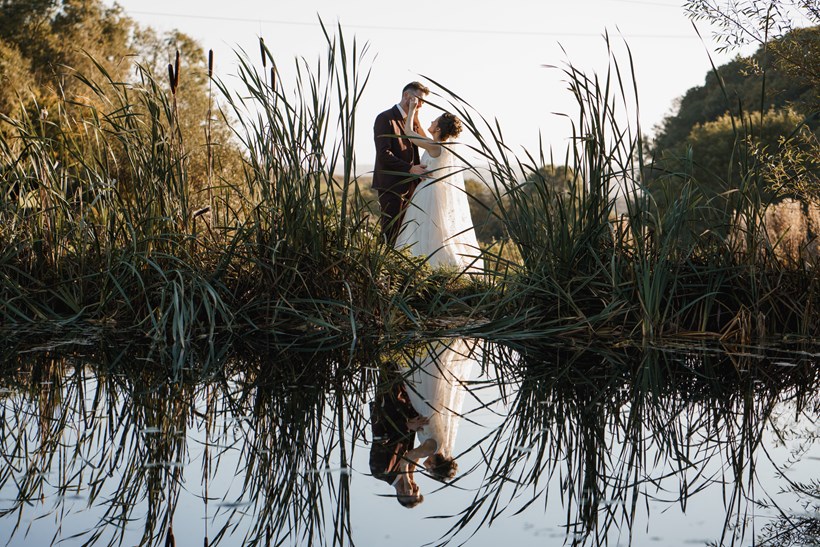 "We had 120 guests at our wedding," says Kathryn "from all corners of the globe! We dreamt of a venue where all our closest friends and family could stay with us in the same place, so we could have a day all together after the wedding day. And we wanted somewhere that was a 'blank canvas' too. Ash Barton was all these things and SO much more. The fact there was no curfew was a huge plus for us. We wanted people to party for as long as they wanted to. We also loved the amount of creative freedom the venue gave us. There were so many locationswithin the estate that would have been an ideal spot for the actual service and each one would have been perfect in its own unique way."
What did you do on the day before the wedding?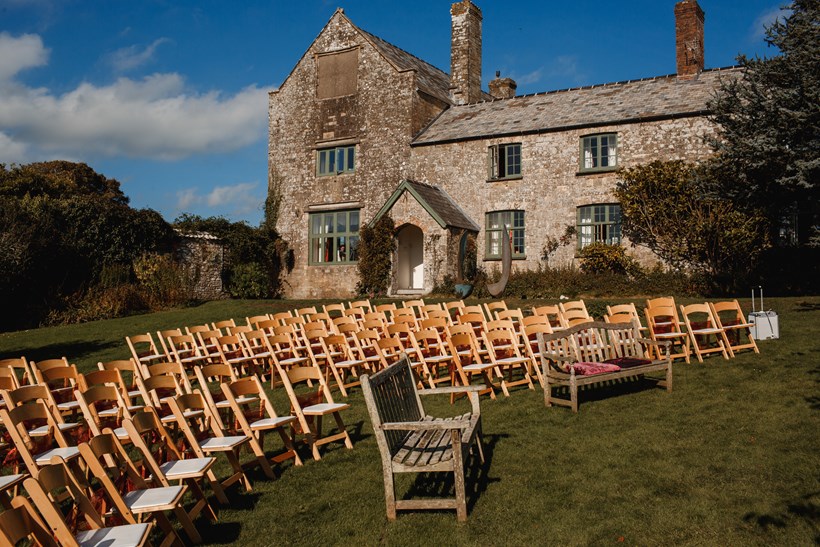 "The day before the wedding was pretty manic," says Thom. "We spent the whole day traveling to the venue and then setting it up. We also had a coach load of people that came straight from Heathrow airport that we then had to ferry to the venue. So we had a big squad to help with the set up! Once we had set things up we had a rehearsal (outside in the cold!) and then a rehearsal dinner of fish and chips from Squires the local chippy!"
Was there a theme?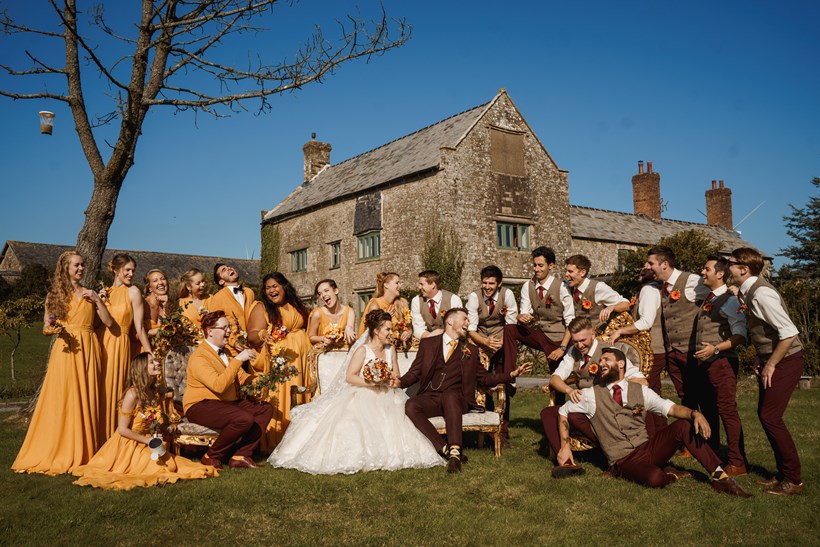 "The theme for our wedding was very loosely based around Harry Potter and Disney with some English country fair elements thrown in too," says Thom. The bridesmaids wore mustard custom-made dresses and I and the groomsmen had burgundy outfits, so there was a strong Gryffindor bias! Kathryn's bouquet was made from the pages of the fourth Harry Potter book and our wedding cake was made with 15 different elements from Disney movies for people to spot too!"
Tell us about the dress
"I had the best designer in the world," says Kathryn. "My maid of honour, David! He has been designing and making princess gowns for years and loosely based my wedding dress on Belle's gold gown from Beauty and the Beast. After lots of different inspiration and thoughts, we went with a plunge neckline, corset bodice and a big skirt with lots of layers. The greatest feeling was having my Mom lace me into it on the big day. That moment made it all feel real!
"But, after stressing for weeks leading up to the big day, the skirt was falling off of me on the morning of the wedding! David had to safety pin me into it. I loved taking those pins out the minute we sat down to dinner!
How about your hair and make-up?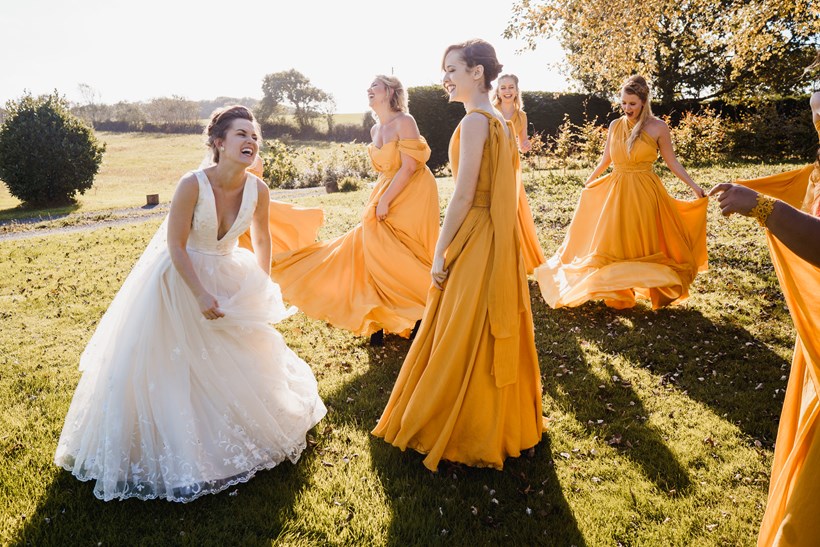 "I did my own hair and make-up! Some of my bridesmaids got their hair done, but I felt better just doing it myself! I curled everything, pinned two big hair donuts on the back, and then pinned the curls to it to make a wavy, pulled back, updo" says Kathryn.
"My great grandmother had a large collection of beautiful brooches that my family has held on to after her passing. Whenever one of her great grandchildren are to be married, they choose a brooch from her collection. I chose a gold and pearl ear of corn brooch, since she lived on a cornfield in Indiana, and pinned it into my hair for the day."
What did the groom and groomsmen wear?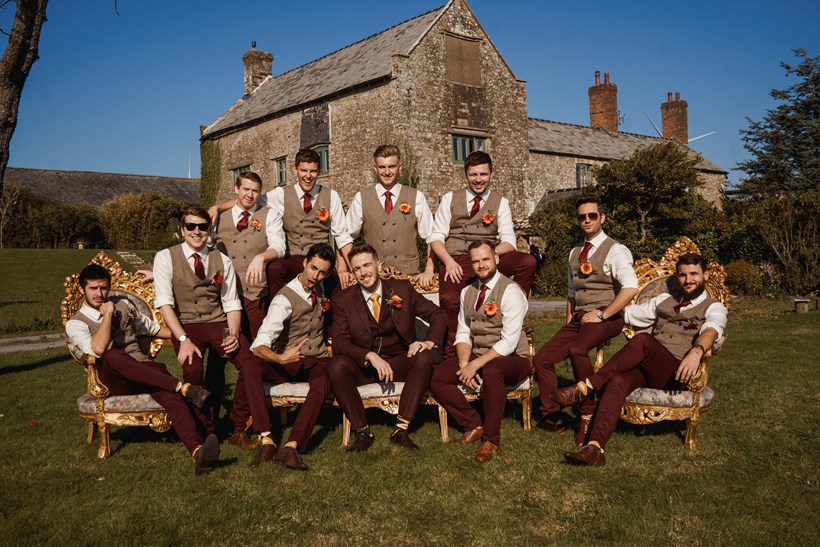 "I wore a burgundy, tweed suit that was almost 1950s in style and cut, along with a mustard tie to match the bridesmaids," says Thom. "My groomsmen wore tweed waistcoats, burgundy ties and trousers with brown brogues."   
Who designed your rings?
"Kathryn custom designed her wedding ring by having her engagement ring made into a band. The ring was designed asymmetrically with the diamond almost floating between the two sides of the ring. Kathryn had Purely Diamonds add small diamonds into the gap to make the ring a band and it became her engagement ring and wedding band all in one. A one of a kind too!" says Thom. "My ring was from Etsy. It's a black zirconium band with a rose gold band (matching Kathryn's ring) running through it."
Tell us about the day itself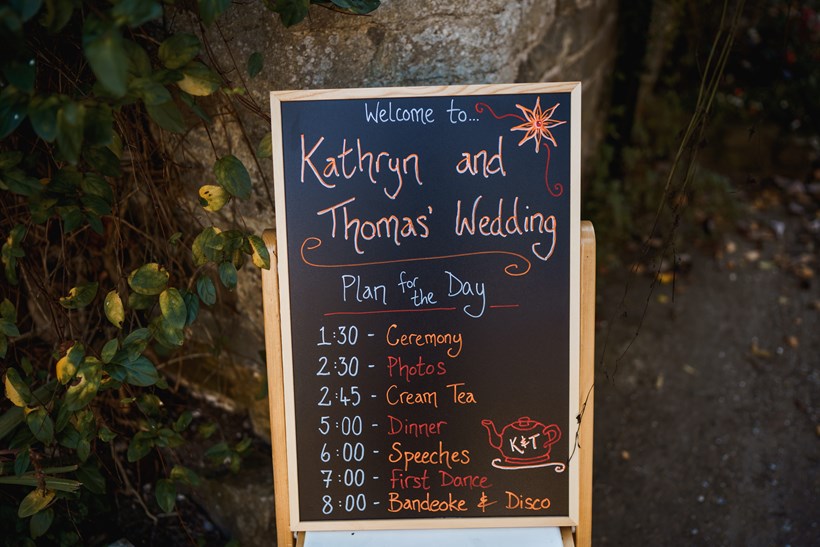 "On the day, Kathryn and the ladies got up nice and early to start their hair and make-up. Some of them even found time to go outside and do some yoga out in the barn to start the day! Kathryn gave herself plenty of time to get ready and was ready with so much time to spare," says Thom.
"I, on the other hand, was running around trying to make sure everything was perfect (I even drove to Tesco to buy more supplies!) before finally getting ready with my groomsmen."
"Around midday the guests started to arrive and at 1pm our amazing ceremony began on the front lawn. Our dear friend officiated the service and it couldn't have been more perfect. After the service we went to the meadow and took photos. Our wedding planner J Scot Reid took control of this along with our photographers and it was seamless. So quick!"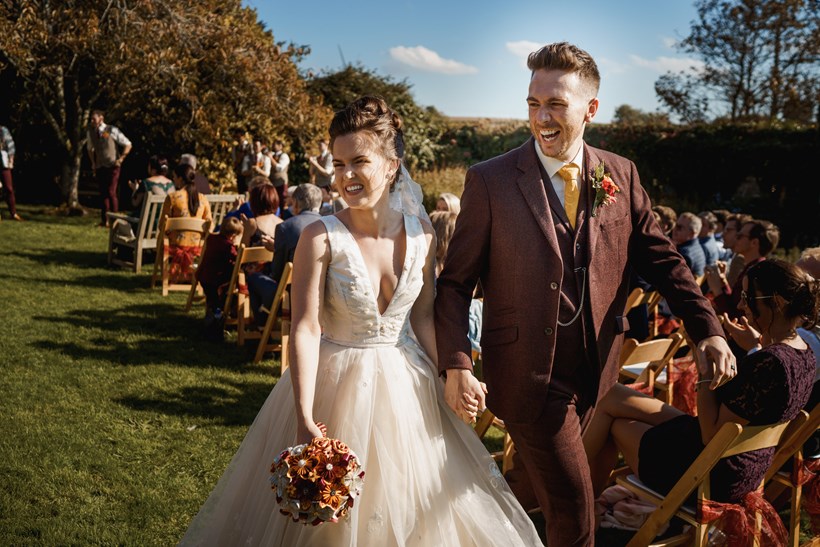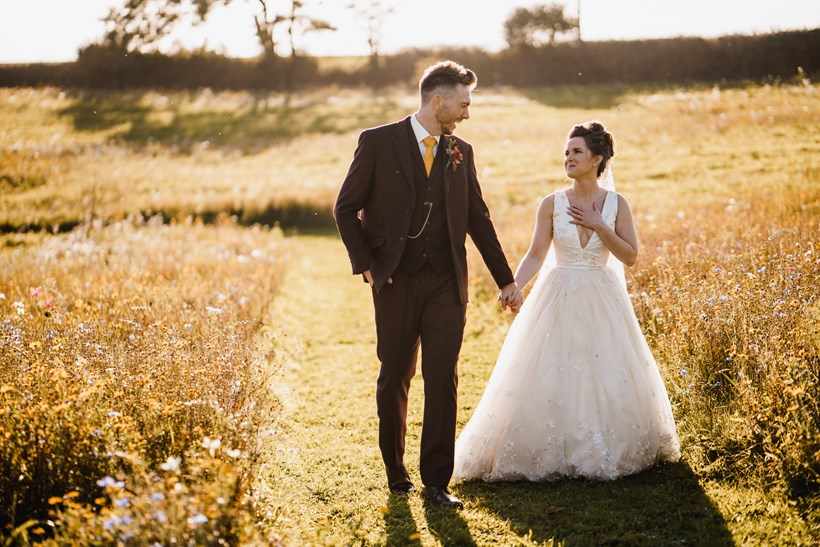 "We then served Prosecco, homemade gin infusions and a cream tea in the chapel. This allowed people time to rest and enjoy the grounds and the glorious weather. Around 5pm we began the procession, meal and speeches. Followed by our first dance and our dances with parents – me with my Mum and Kathryn with her Dad."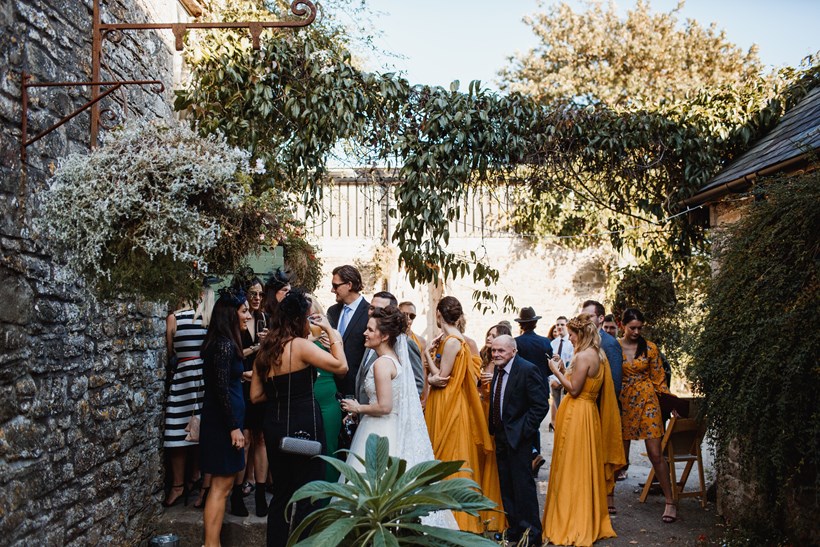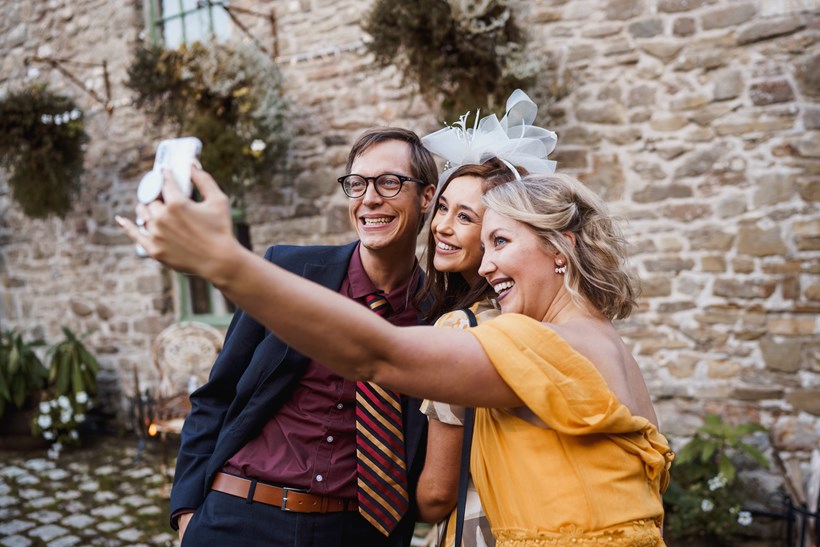 "Then the party really started when our live bandeoke band began. As we are performers, most of our friends are also singers so you can imagine the atmosphere! The band stopped playing at around 1am but the guests staying in the house (and some who cancelled their taxis) partied on until 5am! We didn't want it to end!"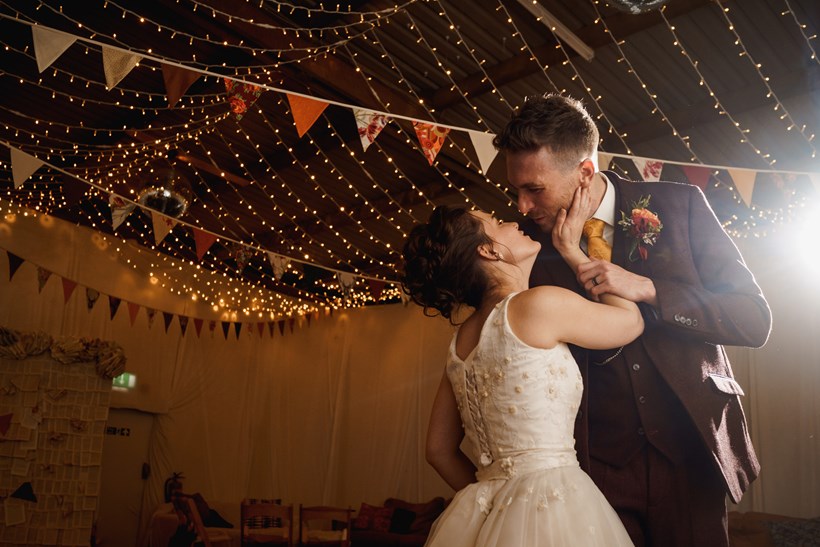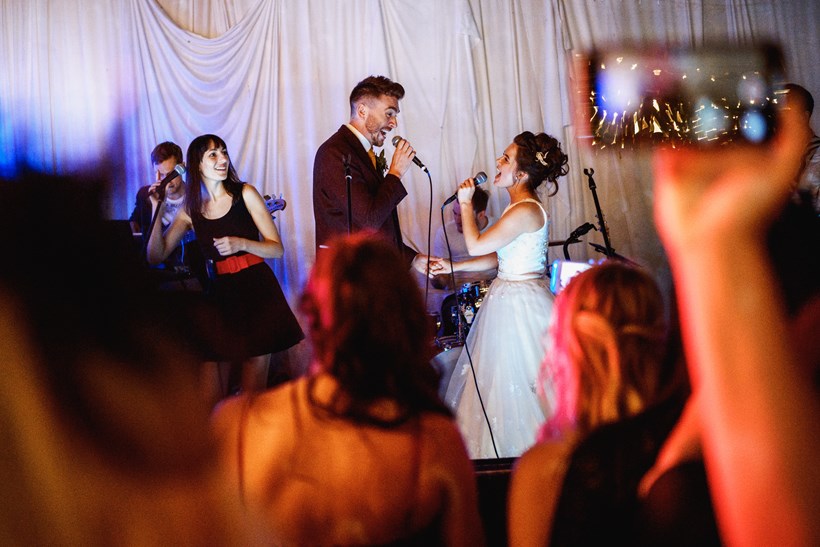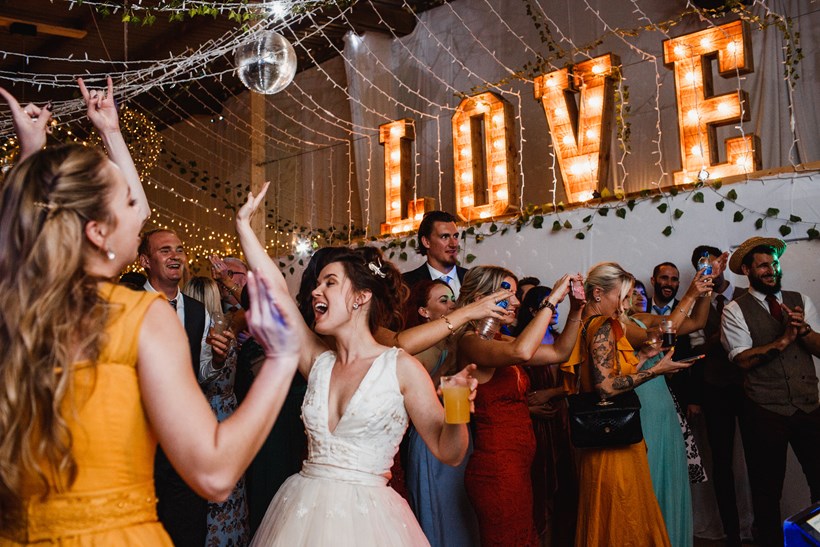 "Our bandeoke band was from Tailored Entertainment. Their booker is Phoebe Cornell and she was brilliant to work with. The band were superb, and they were shocked at the talent at our wedding. They didn't have to sing a thing! They said it was their favourite wedding ever!"
What did you eat throughout the day and who did the catering?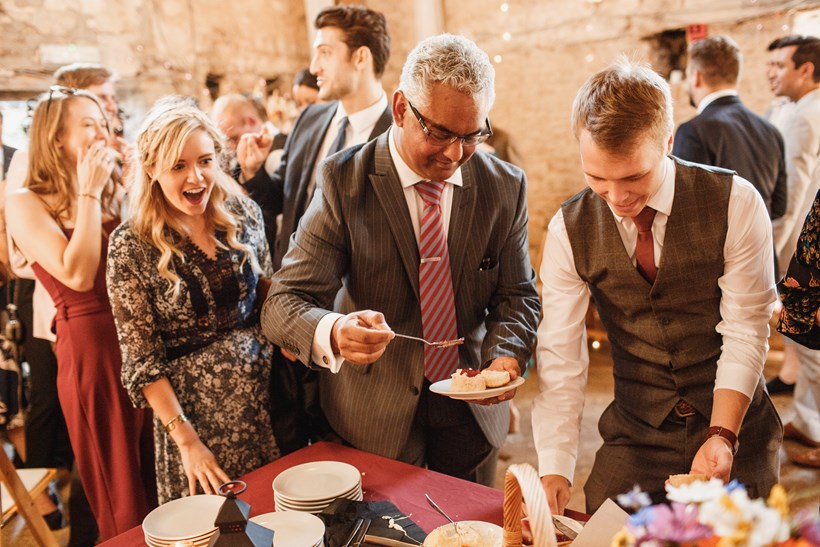 "Our catering was amazing. H&A Catering based in Braunton were incredible," says Kathryn. "The food was everything we wanted. They custom made a menu to fit our English and American tastes. We started with a cream tea, then had homemade gastro burgers, bangers and mash, mac and cheese and potato wedges in a buffet style wedding dinner. For the evening, they made falafel wraps, homemade Cornish pasties, brownies and more! Helen from H&A Catering was amazing on the day too and just so helpful."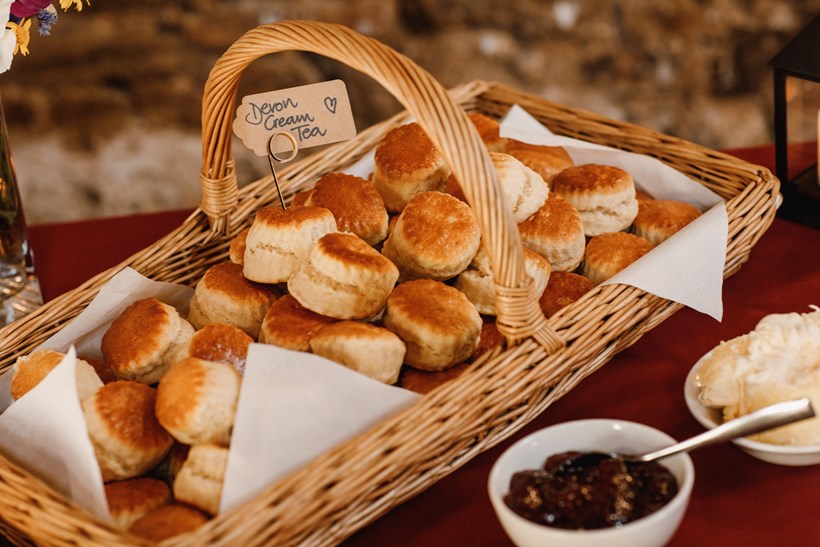 "We agreed to not have a wedding cake but then decided (without the other knowing) to surprise each other with a cake on the big day!" adds Thom. "Kathryn ordered me a groom's cake which represented my big love of football and Fulham FC. And I had a cake made that included 15 different Disney characters that we have played in our careers, plus the two of us in life vests sitting in a lifeboat!"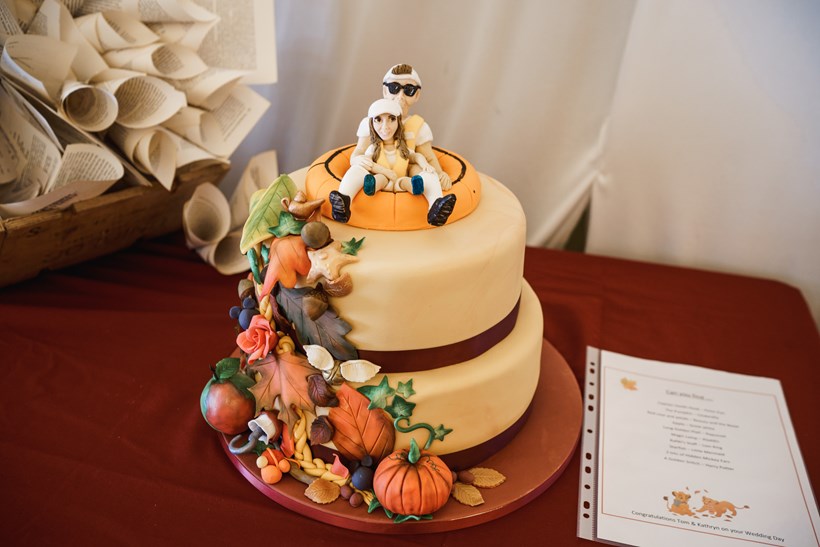 Who took your beautiful photographs?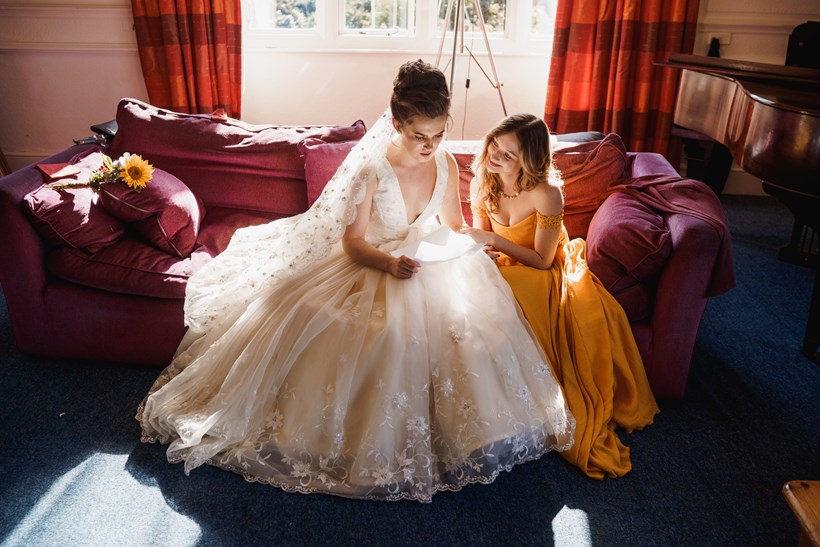 "Our wedding photographer was Anna from Luna Weddings," says Kathryn. "She and her husband were superb. Friendly, efficient, and so talented. People still marvel at our wedding photos today. They captured every key moment and all the joy of the day. We were overjoyed with the results."
What elements of the wedding were really personal?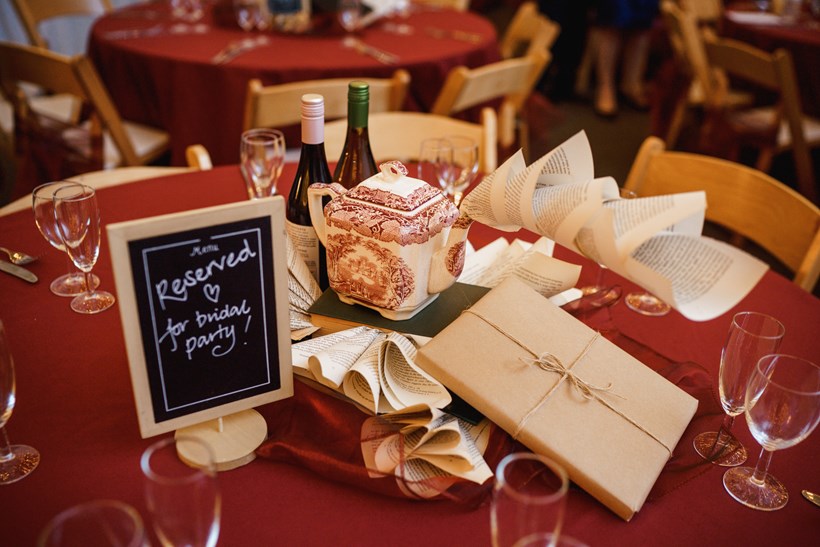 "We added so many personal touches to the whole day. From the service being officiated by a friend, to the custom-made gins, the wedding dress itself, the bouquet, the cake and the songs were all very personal," says Kathryn. "We even bought old books and teapots and decorated the big party barn with teapots, with the pages of the books 'flowing' out of them!"
What were the truly memorable moments?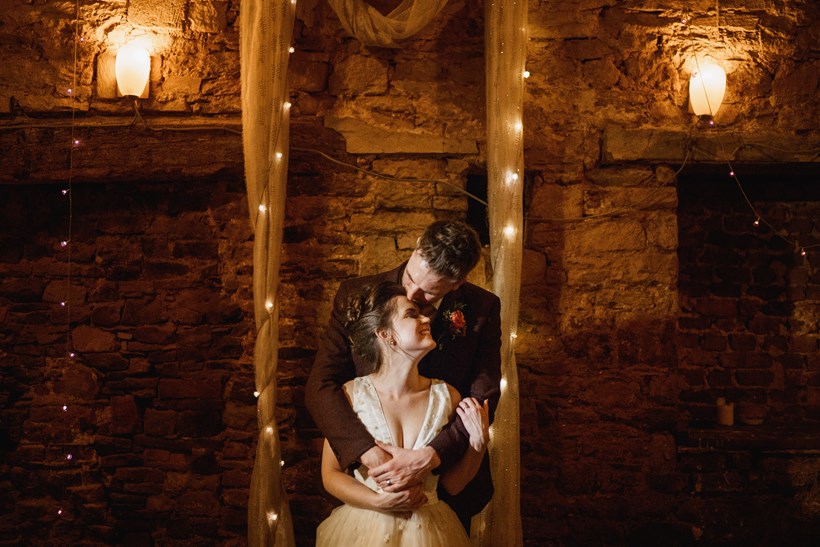 "It was honestly all so magical. Just having people from all parts of your life in one room to celebrate the greatest thing to have happened to you - finding love - is an overwhelming feeling," says Kathryn. I remember looking at Thom when everyone sat down to dinner and we just got up from the table without speaking and went to the old chapel. We stood, just the two of us, and had a cup of coffee while everyone was having dinner.
"As amazing as the day was with all our guests, having that moment to share with my husband is something I will never forget. It's a cliché, but it really was the best day of our lives."
What did you do the day after your wedding?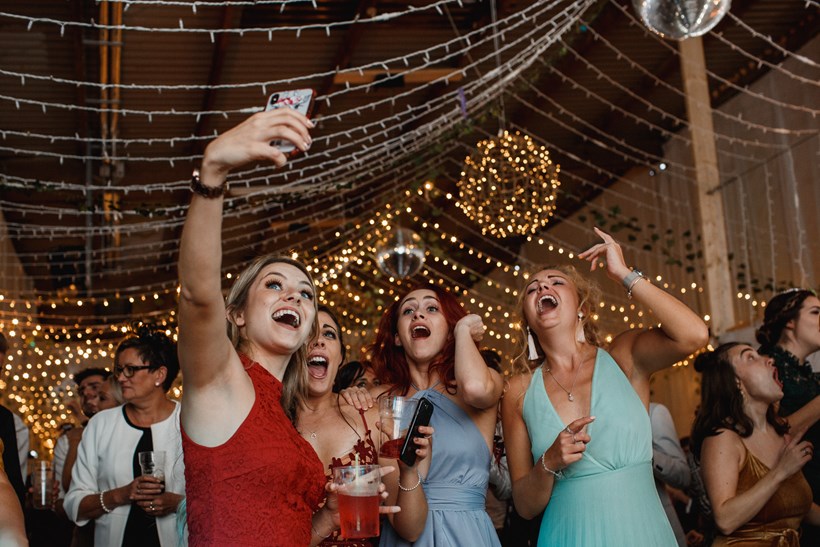 "The day after was lovely," says Thom. "We all helped tidy up. (We had to do a lot less than we imagined as the lovely Pete - the onsite manager - came in at 6am and tidied the whole big party barn!) We then all sat around and played board games, eased our hangovers and swam in the pool! We were up playing hide and seek like children in the big house until the small hours of the night too! We didn't want to go home!"
So would you recommend Ash Barton as a wedding venue?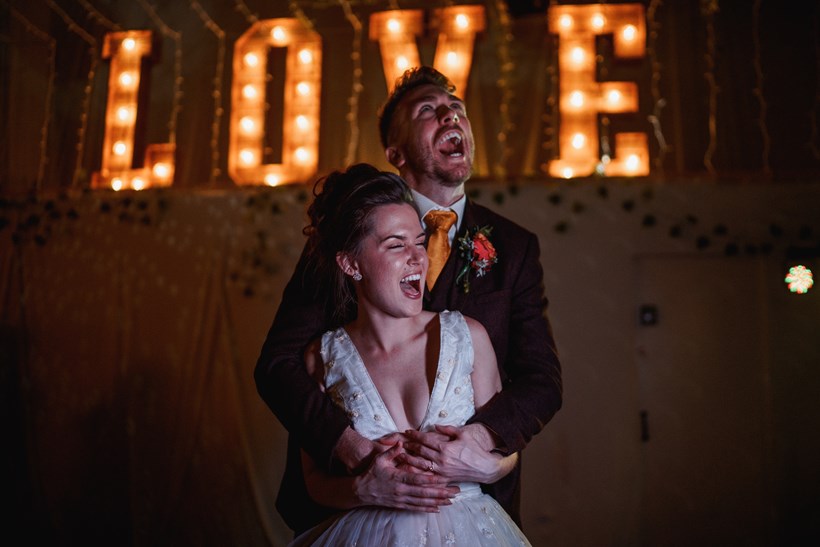 "We would absolutely recommend Ash Barton to anyone. It's the perfect venue. You can do whatever you want and the guys there will help you to achieve your goal. If you want a 'cookie cutter' style wedding, then maybe look elsewhere. But if you want something personal, different and unique, this is the place for you," says Kathryn.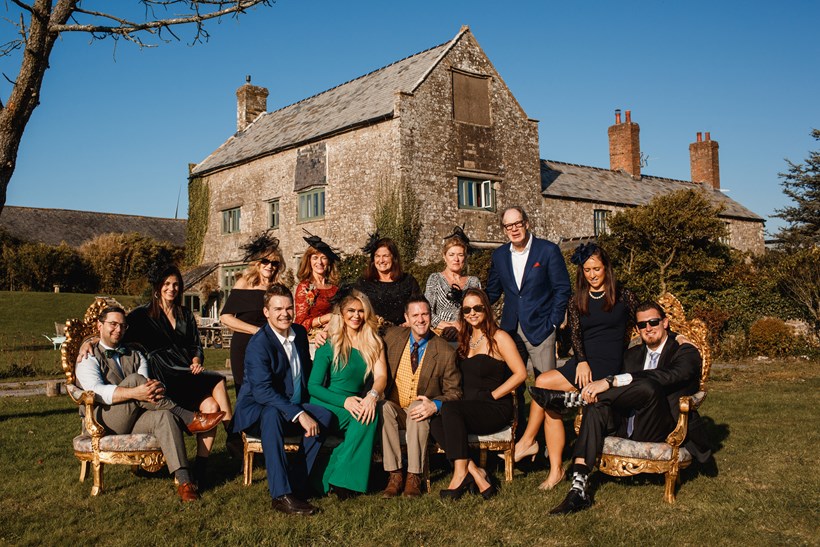 "Literally everything about Ash Barton was amazing that day," adds Thom. Personally, we love history and the look on people's faces (especially our American guests) when they saw how old the place was, was perfect. Our guests have been begging for a reunion ever since we left! The old brickwork in the autumn sun was spectacular. We were so lucky with the weather. It was the warmest, sunniest Tuesday in October you could ever imagine!"
"Our advice to other brides and grooms? Book this place. You will not regret it. Choosing Ash Barton for our venue was one of the best decisions we've ever made."