FAQs About Ash Barton
Ceremony
Is the venue licensed?
Yes, Ash Barton is fully licensed for weddings and civil ceremonies. And, yes, it has a full alcohol licence.
Will it be for our exclusive use?
Absolutely. You, your family and guests have exclusive use of the house, grounds and all the facilities for the entire time you're staying here.  
In the lead up to the wedding or event, who will be my point of contact for questions and queries?
In the first instance email is usually best. Drop Simon Daukes a line at [email protected]. Or call Simon Daukes (07785 386622), Ask us anything. If we can help, we will.
While we're on site, who is our point of contact?
Henry is our unflappable site manager and Thomas Daukes is our son. They're happy to muck in from last minute decorations to organising the cars in the car park. Not sure about anything? Ask Henry or Thomas and they'll be happy to help.   
Are there areas for the wedding party to get ready in the morning?
Brides and bridesmaids usually get ready in the Putsborough Bridal suite. There are sinks for doing hair and make-up and plenty of space to hang dresses and outfits. The chaps usually get ready in Saunton as the room is nice and big.
Whereabouts at Ash Barton can we hold our ceremony?
So many places! From the old chapel or courtyard to the wildflower meadow or under the oak tree: where you get married at Ash Barton is up to you. You can even have your ceremony in the swimming pool. In total we have 13 licensed areas. Download a map of the Ash Barton estate. 
We want an outside wedding? What happens if it rains on the day?
Ash Barton is the perfect open air wedding venue as there are plenty of outside spaces to hold your ceremony. If it rains on the day, we can quickly help you move the ceremony into the big party barn, old chapel or one of the other indoor locations.
Is the old chapel heated?
The old chapel is cool and comfortable during the warm months and nice and warm during the colder months, as it has two huge hot air blowers.
Can we play music at the ceremony?
Yes, you can. We have a 6000W PA, a mixing desk and speaker stacks in the big party barn. Or you can just plug your iPhone into the system and play your playlist. For the other ceremony locations, you can use your own battery powered portable stereo or one of the iPod docks from the house.
How many people can you accommodate for a sit-down wedding breakfast?
In the big party barn, there's seating for up to 200. In the old chapel there's seating for 40. Or if you want something small and intimate, our lovely dining room seats 30.
Celebrations
Are there tables and chairs for hire?
We have 39 round wooden tables and 34 trestle tables available as well as 220 chairs and 10 high chairs. They're completely free for you to use, and you can decorate them however you like. We even have 50 hay bales you can use for free. 
Is there a dance floor we can hire?
We have a dance floor that measures 7m x 6m which you can use for free.
Is there space for a live band?
Yes, in the corner of the big party barn there's a stage for a live band or a DJ. It's free for you to use. Take a look at our interactive tour for the exact location. And check out our suppliers list for local DJs and bands.
Is there a bar?
A bar is already set up in the big party barn. All you have to do is stock it! Take a look at our interactive tour to see where it is. Or download the map. 
Is there a curfew?
No, no curfew at all. Our nearest neighbour is over a mile away. So you can make as much noise as you like, as late as you like. You can party until the sun comes up as far as we're concerned. There's absolutely no curfew.
Are fireworks allowed?
Yes, they are.
How about confetti or Chinese lanterns?
With Chinese lanterns or sky lanterns, please use biodegradable, metal free ones. The same with confetti. Please use the biodegradable stuff. Better still, feel free to pick a whole bunch of wildflowers from our meadow and scatter petals instead. 
Can you recommend suppliers?
From food and flowers to entertainment and photographers: we have a whole list of people who can help make your days extra special. What's more, many of them regularly attend weddings, celebrations and events at Ash Barton so you're in safe hands. Take a look at the Ash Barton suppliers list.
Can we have an ice cream van on the grounds?
Absolutely. We've had lots of summer weddings and celebrations that have featured an ice cream van. Take a look at Mabel the Vintage Ice Cream Van on the Ash Barton suppliers list.
How about fish and chips?
Fish and chips always go down a treat, especially the day after the night before when everyone is feeling a little worse for wear. Try the Whiddon Wagon on the Ash Barton suppliers list. It's an award-winning fish and chip van. Or pop down to Squires in the village, it's the world's best chippie.
Can we have a marquee in the grounds?
Yes, you can. There's plenty of room in the Ash Barton grounds to have a marquee, a yurt, a pagoda or even a stretch tent. Take a look at the marquees and outdoor section on the Ash Barton suppliers list.
Food and drink
Do you do the catering?
What you eat and drink while you're at Ash Barton is completely up to you. If you're having a wedding or a celebration, you can organise your own caterer or take a look at recommended caterers on our suppliers list. You can bring your own food with you too, of course. And you can even have food delivered to the door by the local Tesco, Sainsbury's or Asda. (Just say 'Ash Barton Manor' not cottage when you order.)
Can the caterers use the kitchen?
The kitchen in the house is for domestic/residential use. There's a huge catering fridge and freezer in the utility area, as well as a commercial dishwasher. There's also a large kitchen/catering area with catering fridges in the big party barn too. If you're having a wedding or big party, your outside caterer will set up in here.
Is crockery and cutlery included?
There's plenty of cookery and cutlery in the kitchen for you and your residential/domestic guests and family to use, as well as a 12-slice toaster, high quality cooks knives, a stack of pots and pans, and tons of glassware.
Obviously, if you're having a sit-down dinner for large numbers in the barn, your caterers will supply the crockery and cutlery.  
Can we supply our own alcohol?
Absolutely. Bring as much as you like. Drink as much as you like. We have a large fridge in the kitchen, a huge catering fridge in the utility area and more catering fridges in the big party barn.
Is there a corkage fee?
No. No corkage fee at all. Open and enjoy whatever you want.
Is there a cake cutting fee?
Not at all. You can bring your cake with you. Or have your cake made locally. Take a look at our suppliers list.
Décor and styling
Will there be anyone to help us set tables or put the decorations up?
Henry and Thomas will be around to help/advise you, your friends and family set up before the big day.
Are there any restrictions around décor?
You can do whatever you like apart from repaint the walls. We once had a guest who changed the curtains in the dining room, so they matched the colour theme for her dinner. The room looked great!
How much bunting do I need to decorate the courtyard? 
60 meters should do it. But guests often buy 100 metres so they have extra. 
Do you have any decorations we can borrow?
After various weddings and shindigs, lots of bits and pieces get left behind in what's known as the 'Goody Cupboard'. You're more than welcome to help yourself to anything in there. It's also worth checking out the Ash Barton Brides and Grooms page on Facebook. There's always someone willing to sell or gift you table cloths, decorations and other bits and pieces. 
Accommodation
How many people can Ash Barton accommodate?
We say 35+. But if you use every bunk and every sofa bed you can actually accommodate 45+. And that's not including the cots for babies.
Can guests camp in the grounds?
Absolutely! You can create your own mini Glastonbury if you like. There's an area just beside the house that's nice and flat for camping. And it's right by our posh loos and shower block. There's also a camper pamper room where there's plenty of room to get ready, and plug in your hairdryers and straighteners. (And charge mobile phones too.) There are also heated rails and plenty of hooks where you can hang clothes to dry.   
Are there places nearby where guests can stay overnight?
There are lots of hotels, guest houses, lodges, cottages, and bed and breakfasts in this part of North Devon. Take a look at our accommodation recommendations. Don't leave it too late though. As you can imagine, places get booked up pretty quickly, especially during the summer months and Easter and half term holidays.   
Do you have disabled access?
Our large ground floor bedroom, Velator, is ideal for less abled guests, and it's right next door is its own private and easily accessible bathroom with a walk/wheel in shower. The kitchen, dining room and sitting room are all on this level too.
Easy access to the courtyard and the grounds is via a shallow ramp just a few steps from Velator. And we also have a disabled loo and shower cubicle in our posh loos block just beyond the courtyard.
Are linens and towels included?
All our beds have crisp cotton linen and every bathroom has stacks of fresh white towels. Need more towels? Just ask Henry. 
Is there a map of the rooms?
Take a look at our interactive tour. Or download a map of the bedrooms. 
Facilities
Is Ash Barton child friendly?
Ash Barton is heaven for kids. Our games barn is always the first port of call with its full size snooker and pool tables, as well as indoor 5 a side football, table football, air hockey, table tennis, badminton, basketball and a trampoline. The indoor heated swimming pool is always popular too. And there's plenty of room outside for kids to wander around or kick a ball. 
Are there highchairs available?
Yes, we have 10 high chairs for you to use.
How many loos are there?
Let's see. On the ground floor of the house, there are three including a disabled access loo. Upstairs there are a further six, some of which are in en suite bathrooms. And outside, in our posh loos block, we have another six, one of which has disabled access and baby changing facilities. And another in the swimming pool changing room.
Take a look at our interactive map to see where all the loos are.
Is there a smoking area?
There's a room on the front patio, in front of the kitchen that's a designated area for smokers. And a further smoking area in the car park. There's no smoking anywhere in the house, the barn or the chapel.
What's the Wi-Fi and mobile signal like?
It's surprisingly good. However, we do recommend you don't rely on our Wi-Fi to stream music at your event or celebration. Just download your playlist in advance.
What's the password? 
The Wi-Fi name is Ash Barton. The password is ashbarton. 
Is there a landline?
No, there isn't a landline. But the mobile reception is pretty good, both in the house and in the grounds. And, of course, with decent Wi-Fi it makes internet calls easy.
Are there power sockets and USB ports?
Every bedroom has plenty of power sockets for hairdryers, laptops and chargers. There's a USB port either side of the bed too.
Is there a washing machine?
There are two, and you can use them anytime. There isn't a tumble dryer though. Instead we have a pamper camper drying room with heated towel rails and loads of hooks and hangers.
Is there an ironing board and iron? 
There are a few of each. 
Is the house warm?
It's warm and cosy in the winter months, and cool and comfortable during the summer months. All our energy is sourced from a 200kw woodchip boiler and our solar panels supply all our own electricity. We also feed back to the grid.   
Is there plenty of hot water?
There's plenty of hot water all year round. In fact, if we ran all the hot water taps at the same time for hours, there would still be plenty of hot water.
Is there anywhere to charge my electric vehicle?
Yes, in the car park we have two 7KW EV charging points which you are free to use.
How many parking spaces are there?
We regularly park 200 guests. On the day, Thomas often helps with car park duty and can let your guests know where to park.
Can we bring pets?
Pets are welcome but aren't allowed in the house. But we do have a nice comfortable stable that's perfect for your dogs or horses. Yes, really. There's actually space for a horse.
Are there microphones available?
We don't supply them. But speak to Liam Fairlie from Flybase DJ. He can supply them for you.
Financial

 
When do we have to pay the initial deposit? Is it refundable?
Please take a look at our Terms and Conditions.
When do we need to make a final payment?
Please take a look at our Terms and Conditions.
Can we pay monthly?
You can. Please chat to Simon about this option when you book.
Is VAT included?
Yes, it is.
What's included in the price? Are there any extra charges?
The price we quote you is the price you pay. We have NO extras.  
What's the cancellation policy?
Please take a look at our Terms and Conditions.
General
How many days can we book Ash Barton for?
From Thursday to Monday or from Monday to Thursday.
What time can we arrive? And what time do we have to leave?
Arrive at 4pm and leave at 10am. If we can get you in early, we always do.
How long can we provisionally book a date for?
Because Ash Barton gets booked up so quickly we are unable to hold days open. Your booking is confirmed once we have received a deposit.
Do we have to clean up afterwards or do you do that?
Please tidy up after yourselves and clear away any bottles and glasses etc. And please take down your decorations, signage, festoons or bunting, or anything else that's personal to you. In that respect, just think of us as a self-catering cottage. You know the drill.
Do you have public liability insurance?
Yes, we do. £5M.
Just do it! Honestly, you won't regret it. It's such a versatile venue which can be transformed into whatever you're looking for.

Paul and Stacey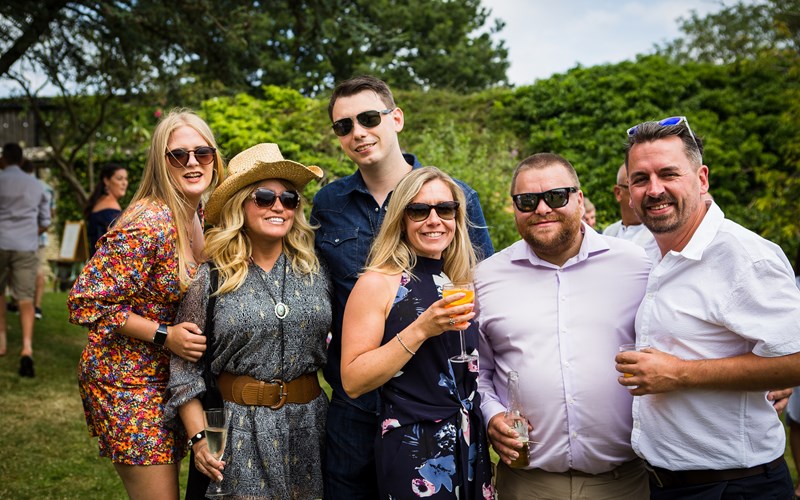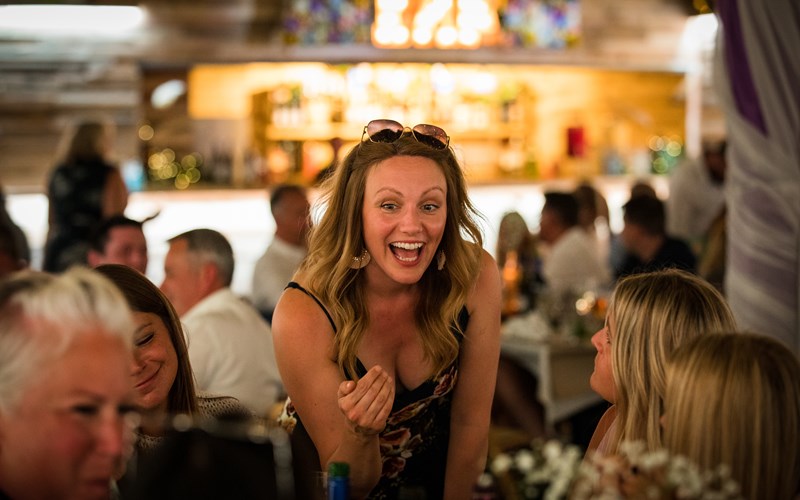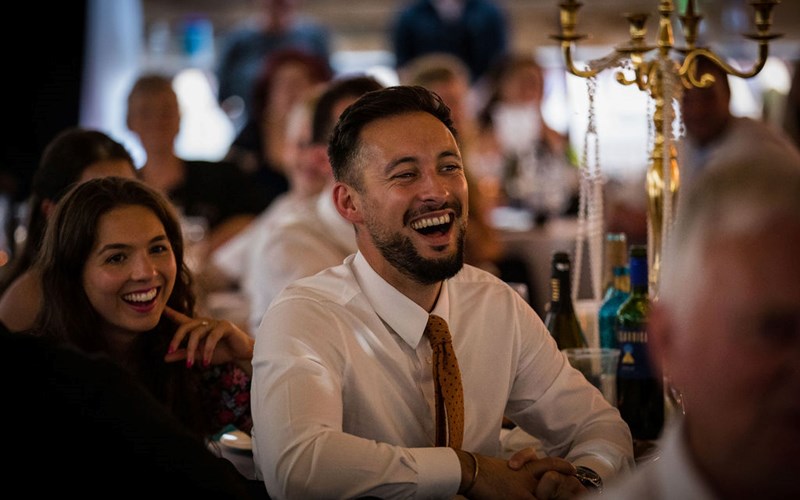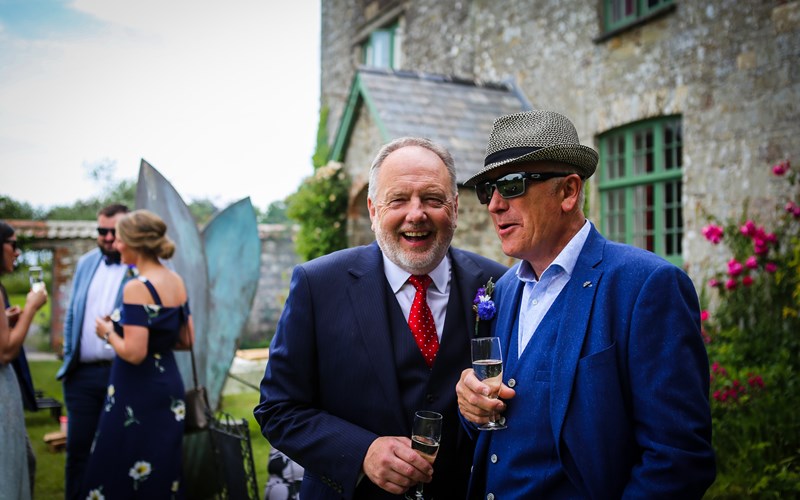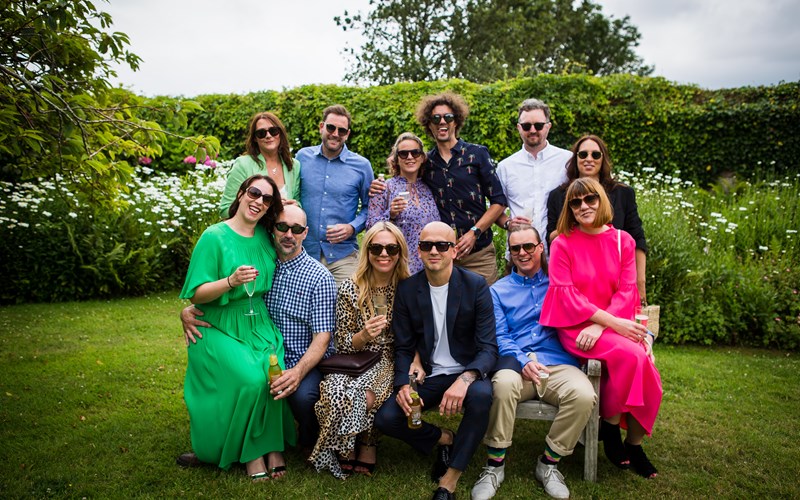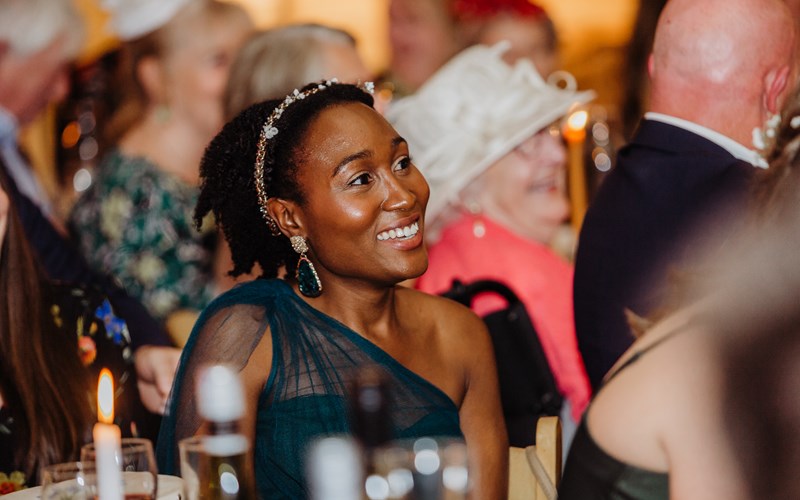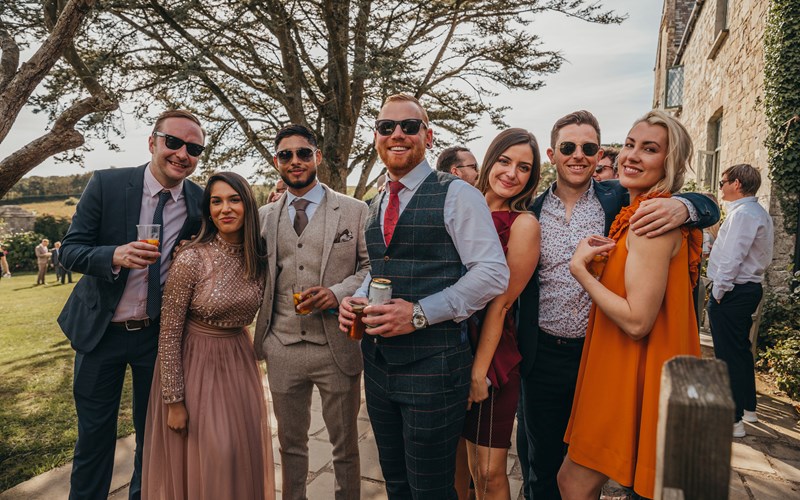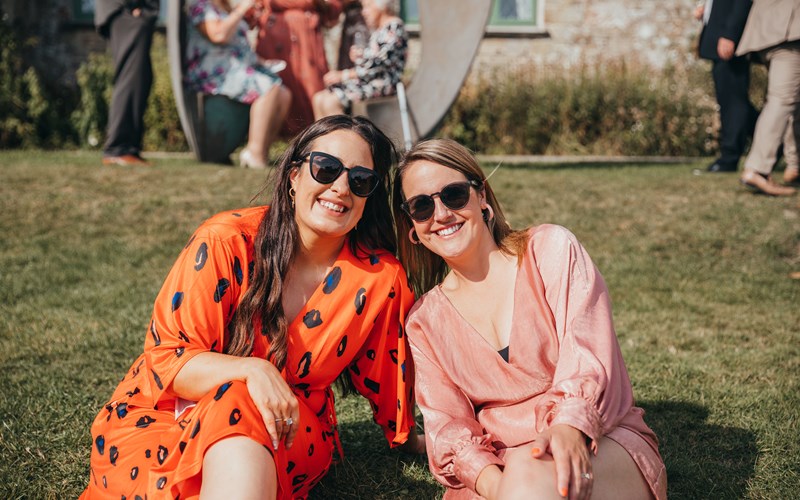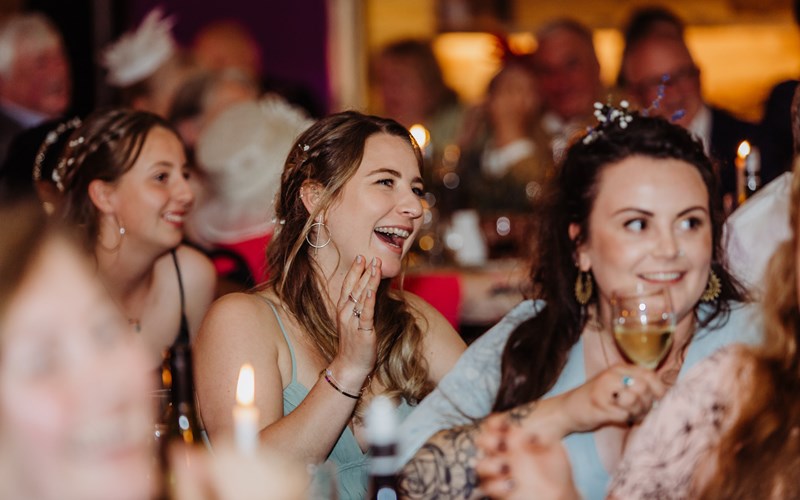 Looking for a place to party?
We'd love to hear from you.
Call Simon Daukes today on 07785 386 622